Multidisciplinary aspect.
We believe that the interdisciplinary approach we have chosen, ranging from biology, chemistry, physics, engineering, socio-economic and socio-technological sciences to humanities and social sciences, is fundamental in addressing this societal challenge. DefiCO2 goes far beyond the development of new technologies with limited environmental impacts based on prospective life-cycle analysis, since it also aims to analyze how the desirability and credibility of these technologies will be constructed through socio-technical discourse, define how industries can integrate political, regulatory and economic uncertainties into their strategy and try to reduce them by contributing to public policy making. Convinced of the benefits of an interdisciplinary approach and with this vision in mind, we have chosen to integrate the social sciences and engineering sciences in each of our work packages that differ from their levels of maturity of the technologies. Indeed, it is from this synergy that real disruptive and viable solutions from both technical and socio-political points of view will emerge.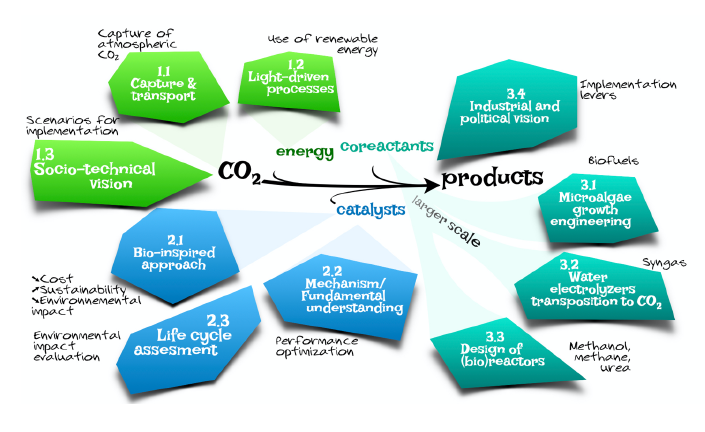 Methodology
To achieve the ambitious objectives of DefiCO2, 4 well-defined work packages will be implemented. The first three are dedicated to the scientific aspect, while the fourth is related to the management and organization of the project.
In the first work package (WP), we will focus on proofs of concept for disruptive technologies combining CO2 capture and conversion based on the use of renewable energies that will fit into a realistic socio-technical vision for the implementation of the technologies at a large-scale.
The second work package will aim at setting up innovative strategies for the transformation of CO2 into chemicals of interest, based on bio-inspired catalysts containing earth-abundant, cheap and non-toxic metals, with optimal performance, and adapted to photo- or electro-catalytic devices with minimal environmental impact, evaluated through life cycle assessment at an early stage of their development.
Finally, the third work package will consider the scientific and technological bottlenecks that should be overcome in the scale-up of near-mature technologies based on microalgae or bacteria able to produce biofuels or on CO2 (co-)electrolysers, and identify public policies that can be leveraged to implement the Carbon Capture and Utilization (CCU) technologies, thereby contributing to the overall societal benefit.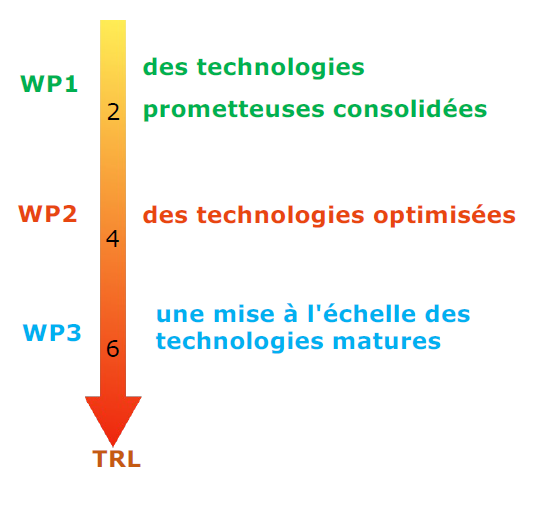 WP : Work Package
TRL : Technology Readiness Level ou niveau de maturité technologique